Hail to Palm – 8 yr old 16.3H Trakehner Gelding by Palme City Born April 28, 2009
 
Born at Southampton . Registered Trakehner gelding 16.3H. His Parentage is our Palme City, a 17H gray Trakehner(Canadian HOY as a yearling and 2 year old by Donaufurst formaly at Valhalla Farms) and our beautiful TB Mare Sound of Trumpets. Affectionately known as Raz, Hail to Palm was named after the famed Hail to Reason. Raz has grown and matured to a well rounded healthy athlete in his repertoire of performance attributes. Started early in the round pen with natural training gave him the ability to develop and grow for most future performers. Raz also comes with a big personality, intelligence and a soft eye. Raz has shown hunters and taken jump courses at 2'9" and singles at 3'6". Safe and responsive for a junior as well. He has been in Dressage training for the last 90 days. Check out Hail to Palm video at YouTube. See (Raz and Kristina) on You Tube
Video of Raz in field: https://www.youtube.com/watch?v=G4B497HsYTU
Joyful June –  16.1H Dutch Warmblood Filly by Consul Born June 30, 2015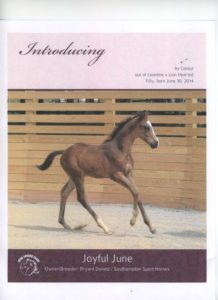 33 Months into development of training of what you would love to have. The Consul/Nimmerdor European Warmblood dynasty needs little introduction as well as Lion Hearted, Storm Cat, Native Dancer, Secretariat, and Bold Ruler on the dam side. Candidate for premium inspection 2016. It's Consul at his best. JJ was born with all the family image, size, conformation and personality. She completed her debut at the Upperville Colt & Horse Show in a yearling breeding class. Her performance was exceptional. Her superlatives are the result of great breeding, handling and imprinting. The package includes the blaze of Consul, ideal temperament, loves people, loves grooming, desensitized to a long list of environments, loads, bathes, mane pulled, braided and started in round pen. Excellent conformation, and a correct and uphill movement. A great beginning to a successful rewarding future for the discerning buyer & competitor. JJ training in round pen and has been broken to saddle and rider.
Gaston Rouge Amour – Yearling old Selle Francais Gelding by Crin Rouge out of Go Seek(Gray TB Mare) Born April 28, 2016.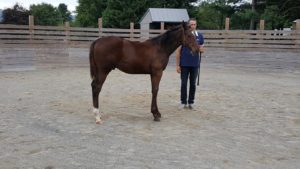 "Crin Rouge" (son of Quoglof Rouge)  17 hand Selle Francais Stallion (diseased)   Crin Rouge  competed internationally as a grand prix showjumper including the prestigise Fontainebleu  jumping championships in France.
 Crin Rouge was born and approved in France, where he competed at 4 & 5 years of age qualifying for the Young Horse Finals at Fontainebleau in 1994 & 1995 with scores of 116 and 123, respectively (some of the highest for those years).   He has two daughters and one son approved in France.
Crin Rouge was bred and approved in France by the prestigious Haras Rouge (Fernand Leredde) .  His pedigree contains the important blood of Nankin, Fra diavolo, Ibrahim, Ultimate among many more. Crin Rouge  showed successfully in the Grand Prix Jumper arena and was originally imported and ridden by Margie Goldstein Engles until he had an accident and could no longer compete at the Grand Prix level.  From 2000-2009 Crin Rouge has continued to show in the jumper and hunter arenas in Missouri and IL.  Crin Rouge has also entered the worlds of combined training and Dressage where he has been trained through First level.
In 2017 we produced 2 excellent colts. One Trakehner and one Royal Dutch.

Sound of Trumpets – 19 yr old 16h TB Mare by Blare of Trumpets by Fit to Fight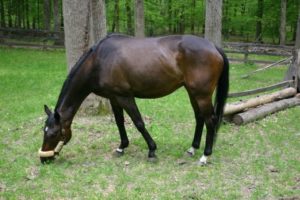 Leontine – 8 yr Old 16h TB Dk bay Mare by Lion Hearted in foal to Palme City Trakehner(Canadian Sport Horse)

Go Seek – 9 yr old 16h TB Grey Mare by Seeking Daylight in foal to Consul-Dutch Warmblood